Frame:
All American, Classic And Contemporary Pool Tables Are in Made in USA.With 100% solid wood.
The Uni-frame support structure, which offers the utmost in style and
support. The support system uses 1½" thick and 4 ½" tall hardwood
beams, utilizing a grid framework used where 2 cross beams run the
width with 1 center beam run the length. These beams interlock to one
another and are attached using heavy duty brackets. This method of
construction ensures maximum stability, keeping the cabinet squared
and true forever.

Slate:
How well the table will play is a direct result of how thick, how flat, & the total weight
of the slate. Solid wood framing attached directly to the slate gives a solid
foundation for leveling and solid wood for fastening cloth staples. All our tables
come with high quality, three piece, diamond honed matched and registered 1"
(one inch) slate. This is a lot less cumbersome to handle and each slate can be
individually leveled to provide a perfect playing surface. The Billiard Congress of
America (BCA) requires that the slate on tournament tables be 1" thick in three
pieces and wooden framed.The 1" Diamond Honed Slate in every usamadepooltables.com table offers a truer playing surface.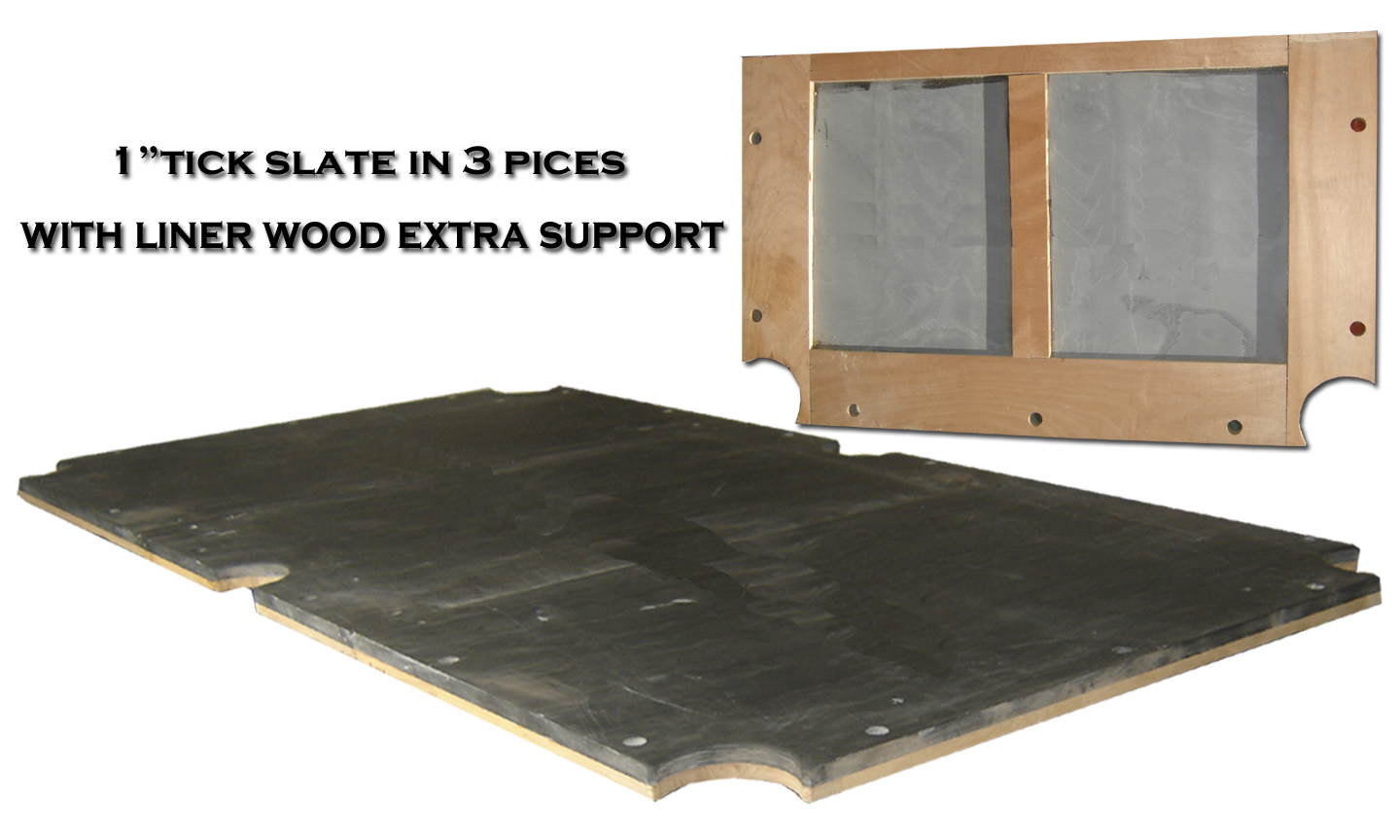 Rail
The rail is the most important part of your pool table and is made up of three
sections, the cushion, the cap and the sub rail. All three parts work together to
make the perfect rail. usamadepooltables.com tables have the perfect wide bodied rail with
K-66 style cushions containing 100% "live gum rubber" allowing for no loss of
speed or accuracy during play. Each solid birch sub rail is securely fastened with
three large bolts to ensure better accuracy
Pockets
Leather pockets with cast iron core,
trimmed with fringe or leather shield